Every season has its own special fragrance. Enjoy them in your shower and bathroom everyday!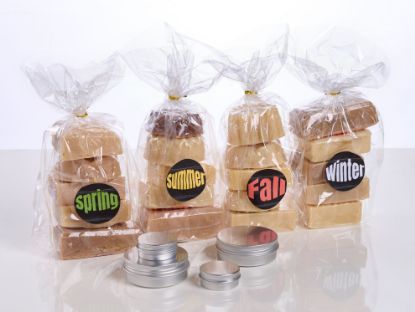 The Four Seasons of Soap Complete Collection is a great way to make sure you or your loved ones have a full supply of delightful soaps and shampoos to last the whole year! Each package includes scents and shapes intended to celebrate the uniqueness of each season: Including but not limited to: Summer scents like Wake Up Citrus, Dreamsicle and Tobacco Bay, Springtime flowers like Lily of the Valley, Fall Scents of Pumpkin Spice and Cinnamon, and select winter scents like Frankincense and Peppermint! This special gift set even includes our hand and lip balms, a unique item not available individually.
It is so much fun to enjoy the scents of every season! Summertime has it's own special scents that remind you of picnics and summer vacations at the beach. Coconut Shampoo, Dreamsicle, Endless summer, wake up citrus, and Baby soft Oatmeal Facial soap.
It is so much fun to enjoy the scents of every season! As flowers bloom, fruit ripens (at least in Florida), and the sun shines all day, there are special fragrances that we associate with spring. In this collection, we bring you our favorite spring scents: Lavender Mint Shampoo, Lily of the Valley, Love Spell, Lemongrass and Orange Blossom.